The Coll House Experience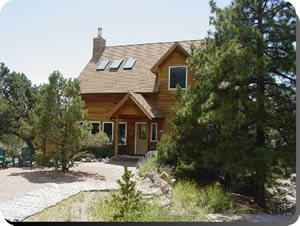 The simple and welcome comfort of a home that has the feel of an inn is at the heart of The Coll House experience. The deep quiet and enduring presence of the mountains brings the gift of peace for relaxation and a good night's rest.
In the morning, you'll find the rustic corner table by the kitchen set with china, ready for you to enjoy the changing morning light while you have a nourishing organic breakfast. On cool mornings, you'll have the added pleasure of a fire to warm you while you start your day. Or if you prefer, enjoy breakfast in the sunroom or on the patio just outside.
Marcia Heusted, Proprietor
To add that next layer of depth to your experience, pick a treatment from the unique array of bodywork and healing modalities or the spa package, and relax into the experience of Marcia's gifted, intuitive healing touch.
Marcia Heusted, N.C., C.M.T.
For more information and reservations, call (719) 256-4475 or email us.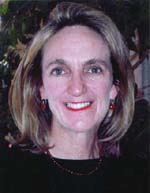 A naturopathic consultant and ABMP certified massage therapist, Marcia founded and directed one of the first integrative medical centers in the United States. For 10 years in Cape Cod, Massachusetts, she directed and worked with 14 practitioners, modeling an integrative approach to medicine and healing, sharing allopathic and alternative therapies. Marcia is the former Department Head of Holistic Health, Therapeutic Massage and Energy Medicine at Trinidad State Junior College in Alamosa, Colorado. She has recently created a new treatment modality called Quantum Field Healing, which assists in creating comfort and stability in what many are calling "the new energy."
As human consciousness transforms and evolves, The Coll House holds a frequency that aligns with and supports this new energy, which is complementary to the many different paths of spirituality represented in Crestone. Marcia holds this space for you to come and experience Crestone in your own unique way, with The Coll House as your "home away from home."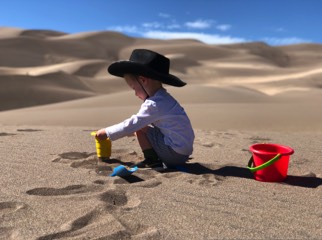 Vinston Eghammer (Coll House Guest) at the Sand Dunes

Please Note: From early June through mid July, Crestone may experience a significant mosquito population. If you are staying with us during this time please bring insect repellant and long sleeves. Thank you very much.